Walpurgisnächte – via Space Time Block Code
Collected Narratives and Texts by Barbara Ryan 1992 – 2014.
An Edition of 31 Hand Made Books including Artist's Proof
( Comprising of 4 Stamped and Numbered Print Runs – Series 1-4) :
* * * * * * * * * * * * * * * * * * * * * * * * * * * * * * * * * * * * * * * * * * *
Series 1
7 Pressings ( including Artist's Proof) .
Ostdeutsche Dorf-Disko Standard Issue:
Black and White with accompanying Book- Mark, Dust Jacket and Outer
Wrap and Seal. 82pp.
Price £45.00 plus p&p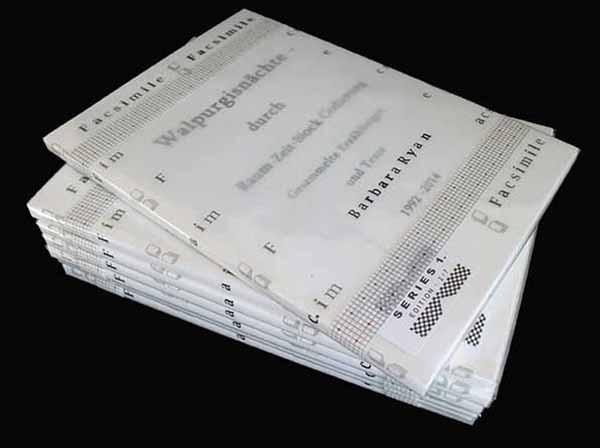 This edition is a facsimile of the original artist's book –
Walpurgisnächte durch Raum–Zeit–Block Codierung - Gesammelte Erzählungen und Texte von Barbara Ryan 1992 – 2014
Walpurgisnächte – via Space Time Block Code - Collected Narratives and Texts by Barbara Ryan 1992 – 2014 – an addendum to the ongoing project Parallel Lives with Three Suitcases - Barbara Ryan 2012 – 2019.
Acting as 'radio receiver' the artist Barbara Ryan has collated 22 years of 'received transmissions' at particular sites in Berlin and Brandenburg. Mapping and cataloguing the data and its solidification at particular locations whilst also following its passage along public transport networks which act as a conductor to a parallel and unseen world.
The book takes its title from a technique in wireless communications known as Space-Time Coding. With this technique data is transmitted repeatedly via multiple locations and antennae but only a single 'receive antenna' is required for retrieval. Not all data can be received intact – the act of repetition is required for the collated data to make sense. In some instances a transmission has been received in its entirety, with a single poem or narrative arriving complete via clear atmospheric conditions. Other transmissions have been logged as a whole only after years of tuning-in until the repeat broadcast can be finally discerned.
Walpurgisnächte acts as a logbook for the final and unscrambled transmissions. Every transmission is numbered and its place of origin and time slot recorded in a corresponding appendix in the final section of the publication.
"Walpurgisnacht is a time when the veil between the worlds is thin or practically non-existent, but for me the Walpurgis 'nachts' and Walpurgis days were an everyday occurrence – the dimensions abounding, laid one atop the other. I uncovered something akin to 'ghost frequencies' which permeated particular environs – these were in both expected locations such as crumbling buildings and abandoned stairwells and conversely in freshly renovated apartments and other seemingly un-esoteric places such as shopping centres and busy main roads – archaeology via a form of mental dousing. The names of the S-Bahn and U-Bahn-Haltestellen whispering and sometimes shrieking their histories, their narratives woven into their sounds...

...Strausberger Platz features predominantly in Walpurgisnächte and it always spoke to me of fairy tales and child-guzzling witches – particularly 'The Strausberger Hexe' – waylaying lost children at the local traffic roundabout. Scratch the surface of this area and you will find the Haus des Kindes with its fantastical and literally fable–ous staircase, which I never witnessed but felt its presence nonetheless. Times, dates and places have become saturated with the weight of history and resemble well-worn tracks which grip and propel more current histories, narratives and happenings.
...The transmissions also manifest in cycles and repeat themselves endlessly. Within the timeline 1992–2014 the future became manifest and in turn became the past, only to return again as the future. After 2014 it became clear to me that the cycle had ended and 'the repeat' was about to start..."
Barbara Ryan, Prenzlauer Berg 2015.

This facsimile edition is dedicated to 'The Ferryman'. My thanks also to everyone 'at Senefelderstrasse - 10437' and all those in the UK that helped bring this edition into being.
Wild Pansy Press 2018
ISBN 978-1-900687-64-5
A History and Description of the Production of Walpurgisnächte: A Hexed Undertaking?
Barbara Ryan's The Magnolia Room Presents….
* * * * * * * * * * * * * * * * * * * * * * * * * * * * * * * * * * * * * * * * * * *
Series 2
9 Pressings.
Contains Plates not included in Series 1 plus Olfactory Samples.
Black and White with Dust Jacket and Series 2 Outer Wrap and Seal. 82 +pp.
Price £75.00 plus p&p