Blue Books
Mick Welbourn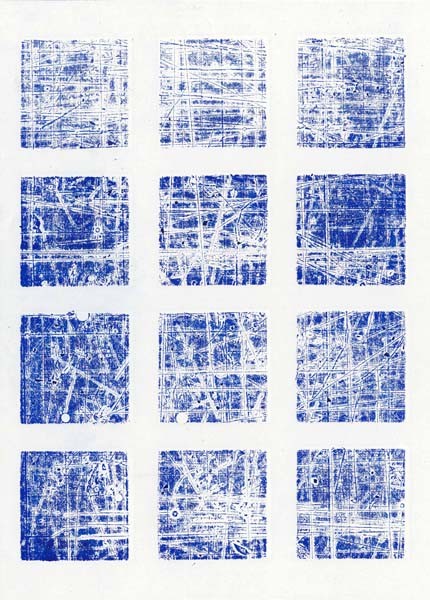 Mick Welbourn often makes work about swimming pools.
These swimming pool works are often blue.
Much of his work that is not about swimming pools is also blue.
People often mistakenly think this work is also about swimming pools.
These blue books are not about swimming pools.

The series of pictures that make up Blue Books originated from the experimentation and production of numerous monoprints (unique printed images) developed by Welbourn without any particular objective other than a curious interest in the process itself and the distinctive qualities that can result from this very basic printmaking technique.
In considering how to move the work forward, beyond that of a random collection of outcomes, Welbourn decided to edit and order the images, employing the formal structure of the folio and codex in creating the linear sequencing that is afforded by the book.
Being printed from exactly the same colour ink, the work contained within Blue Books functions as a complete body of work rather than disconnected objects, allowing them to be displayed together as a 'surface' rather than individual units.
As part of PAGES Picture Book Mick Welbourn's Blue Books will be on display in the Wild Pansy Press Project Space in the School of Fine Art, History of Art & Cultural Studies, Old Mining Building, University of Leeds, 4 February – 18 March 2016 (curated by Chris Taylor and Simon Lewandowski).
Private View: 4:00 - 6:00pm Wednesday February 3rd 2016.